ITISeasy.contracts - Contract Management

The management and automation of contracts with customers and suppliers in ITISeasy.business are now easier and more convenient than ever before.

The functionality is also available as an add-on module called ITISeasy.contracts for Odoo. With this module, you can significantly increase your productivity and quality in contract processing.


Manage Customer and Supplier Contracts
ITISeasy.contracts offers you the following functions:
Contract Dashboard
With the dashboard for current, terminated, and expiring contracts, you always keep an overview. You know what income and costs to expect, but also when you should potentially discuss a contract extension with a customer or supplier.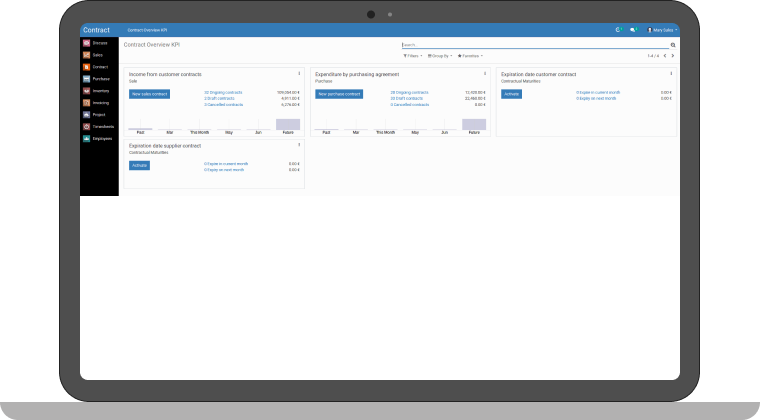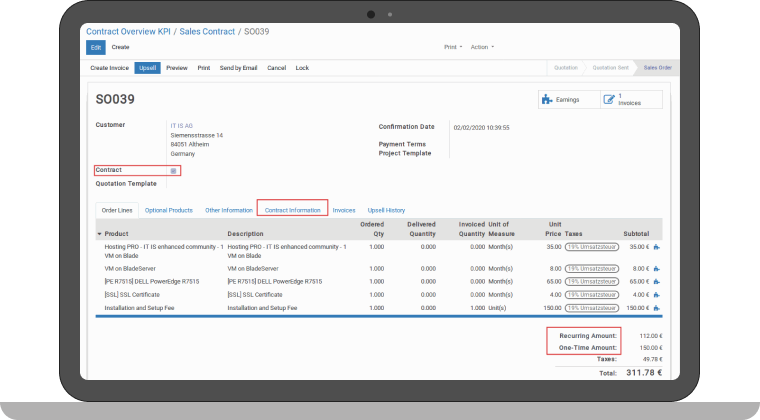 Contract Option
ITISeasy.contracts expands the sales order to include the contract option. This provides an additional tab for configuring contractually agreed-upon terms and durations.

Contract Information
Agreements regarding duration, contract extension, and billing interval can be stored for the order. Based on this information, invoices are automatically generated or the contract is extended if the customer does not terminate it. You can also decide what should happen to services that may have been provided in advance.

These details serve as a basis and are transferred to the respective products or contract lines.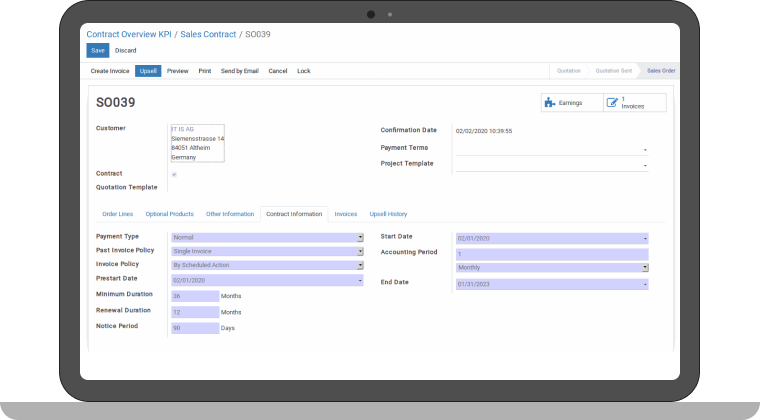 You Would Like to Manage your Contracts with ITISeasy.contracts?
Contact us for more information or a demo.
Automatic Contract Calculations
The invoices for your contracts, whether they are with a customer or supplier, are automatically generated by the system according to the contract settings. This can be done either at the specified interval or completely in advance as a draft.

The invoices can also be directly viewed on the contract itself.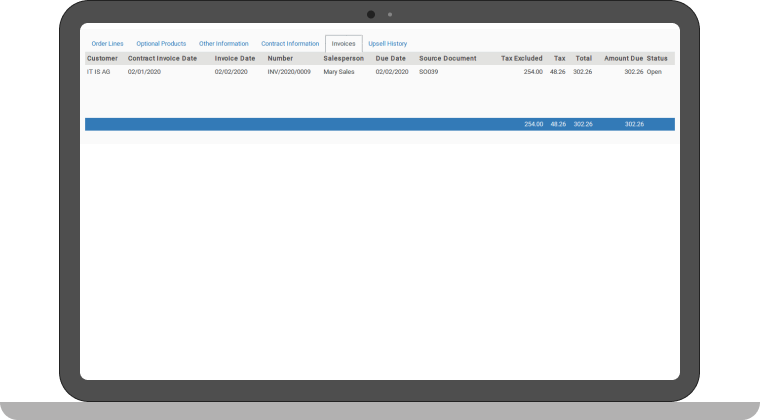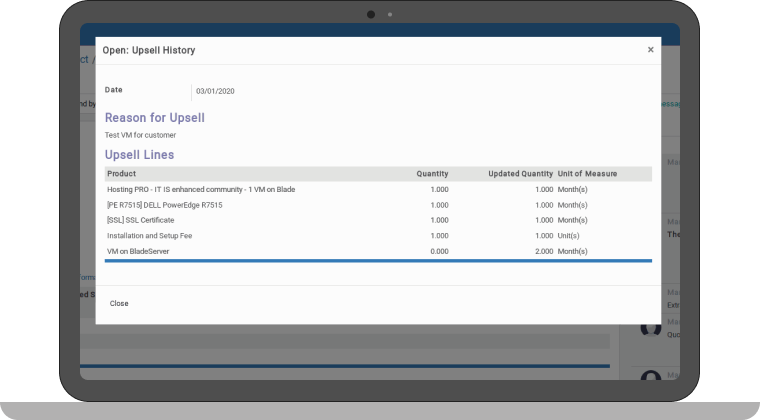 Contract Upgrade - Additional Achievements
During the contract duration, contract changes in the form of upsells can be made. This means that additional services or the quantity of the acquired service can be modified. The additional contract components will then be automatically included in the billing from the defined time onwards.

Contract Lines - Downgrade Terms
Due to the upsell possibility and potentially varying nature of contract components, the services may have different durations or extensions. Therefore, the contract details can be individually modified for each contract line. The default values are inherited from the contract information but can be adjusted in each position.

These settings encompass all options regarding duration, termination notice periods or contract extensions, as well as billing intervals and contract duration.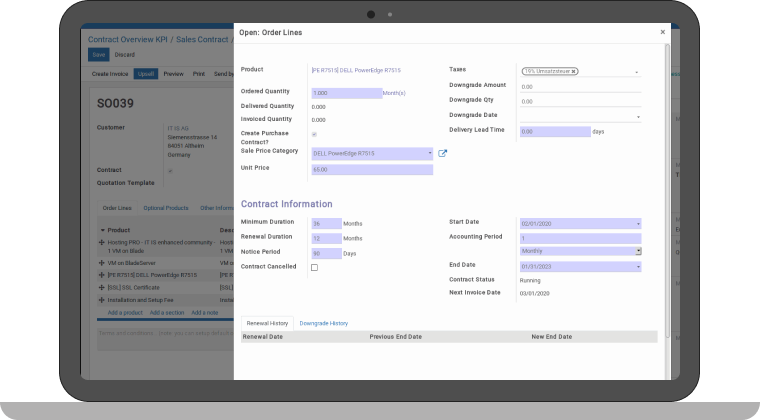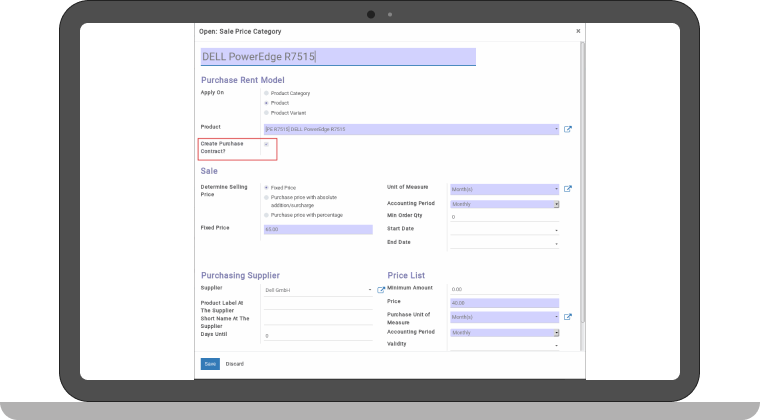 Retail Price Categories
The use of sales price categories allows for different purchasing and selling scenarios. For example, products can be purchased from a supplier as a one-time purchase but billed or "rented" to a customer on a monthly basis.

Additionally, there is an option available to create a purchase contract directly for the product if the corresponding product is procured within the framework of a supplier contract. There are multiple options for pricing as well. For instance, billing to the customer can be done with a fixed amount or based on the purchase price with corresponding markups.

Different contract durations or terms can also be set for sales and purchases.

Supplier Contracts
The contracts with suppliers can be automatically generated from customer contracts, as described above, but can also be created individually, as needed.

In the contract management process, the various functions available for customer contracts are also provided for supplier contracts. Naturally, there is also a contract dashboard in the procurement process for an overview of the operations.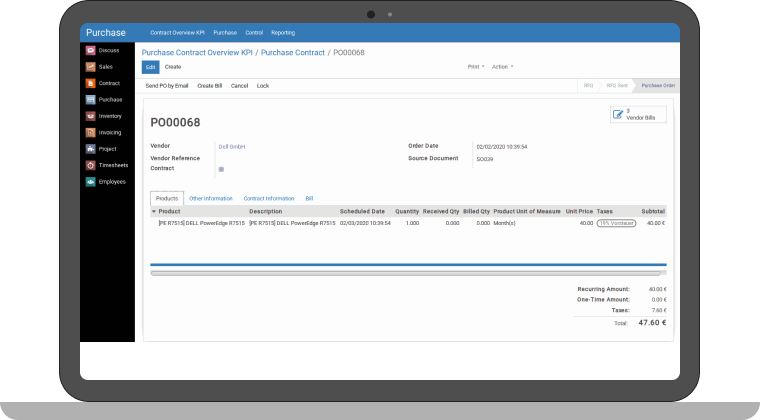 Take your Contract Management to a New Level - with ITISeasy.contracts!
Contact us for further steps or a demo.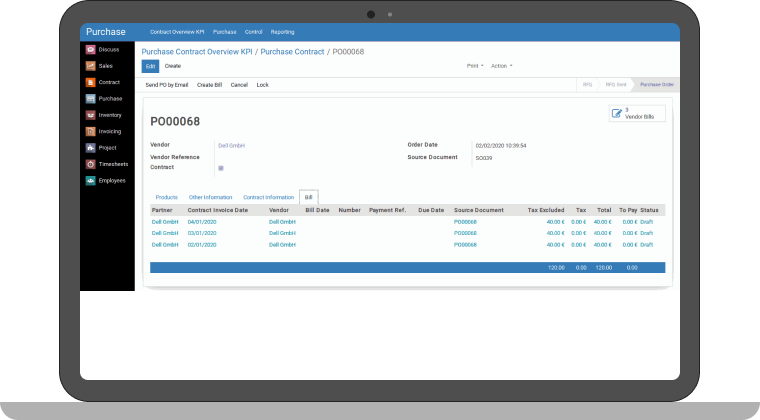 Supplier Invoices for Contracts.
Similar to customer contracts, invoices for supplier contracts are also automatically generated based on the contract settings. This can be done in advance as a draft or scheduled for each billing period.

On the supplier contract, you can view the associated invoices and costs related to the transaction.

Revenue and Cost Analysis.

In addition to the dashboard, the contracts themselves provide information on the revenues and costs associated with the contract.

Multiple key performance indicators (KPIs) are available, which can be calculated based on actual costs and revenues, as well as projections based on expected costs and revenues over the contract duration.

You can access this information for the entire contract, as well as for each contract line representing individual positions.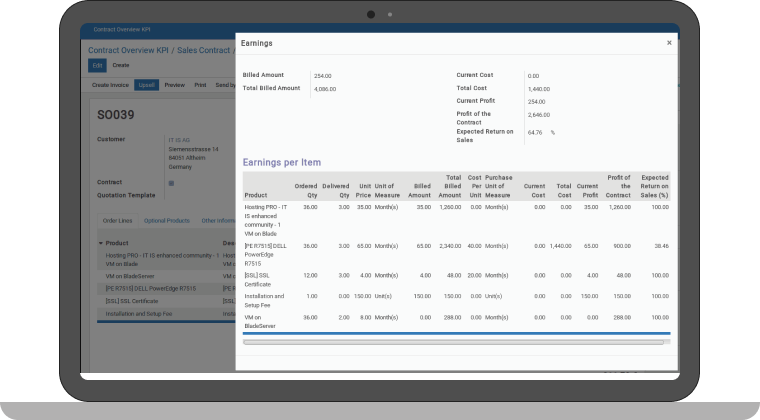 Expand your Contract Management with ITISeasy.contracts in Odoo Enterprise

Contact us for more information or a demo.