Working Hours Model

ITISeasy.business is not without reason one of the best ERP systems. It allows you to store various working time models and carry out corresponding time bookings.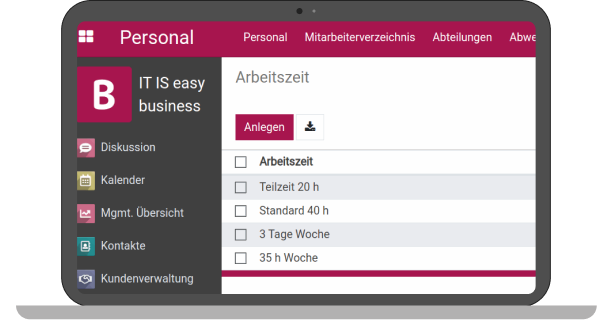 Storing Working Time Models

In the personnel module, you can store any working time models in the configuration section.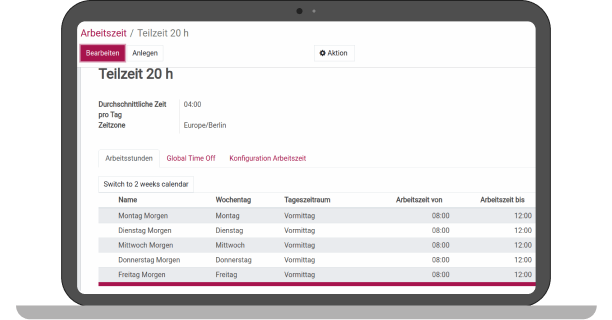 Creating Working Time Models

Each time model can be individually configured and equipped with respective working hours. In the example, the model represents a 20-hour workweek with daily working hours set from 8:00 AM to 12:00 PM.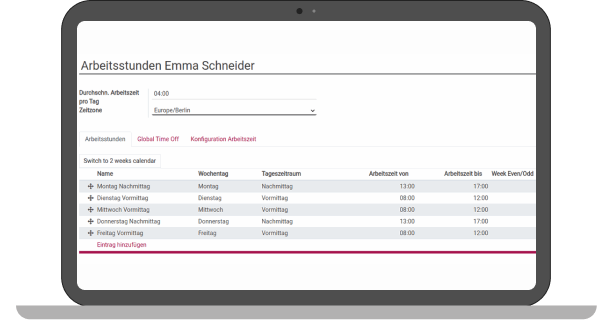 Individual Working Time Models

In addition to the traditional models like 40 hours or part-time, less common and completely individual working time models are also possible.
For example, here is a model that allows for 4 hours of work daily, but these hours do not have to be regular from Monday to Friday.

Switching the Working Time Model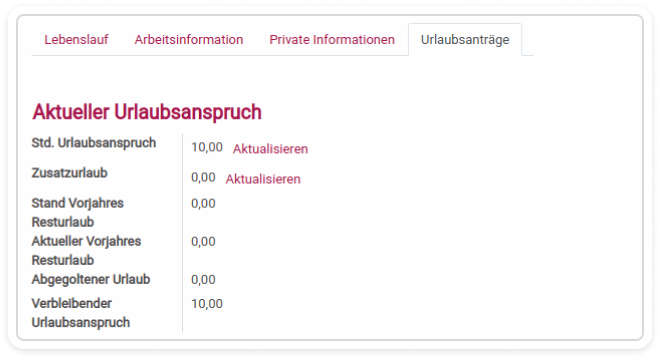 Intra-Year Change

Real-life scenarios demonstrate that changing the working time model during the year is common. For instance, the working hours per week may be reduced due to illness. It's important to note that when the model is changed, the vacation entitlement also needs to be updated accordingly.

In the example, let's assume the employee has a carryover vacation entitlement of 10 days from their previous contract for the first half of the year.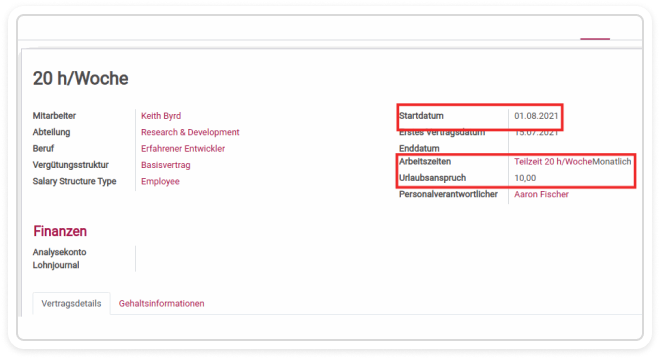 Vacation Adjustment

Starting from August 1st, the employee's new part-time contract comes into effect, which allows only 10 days of vacation entitlement per year. Since there are 5 months remaining in the year, the vacation entitlement will be adjusted proportionally.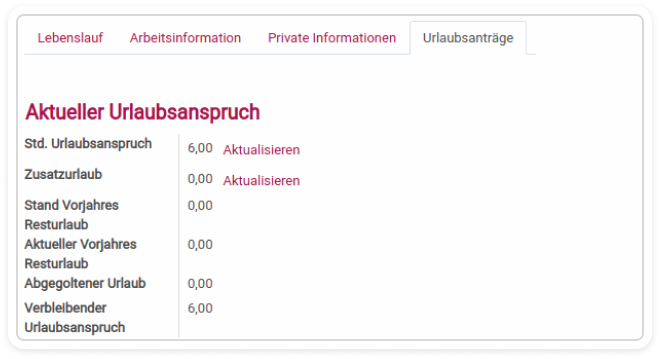 Claims Update

With ITISeasy.business, updating vacation entitlements for employees can be done easily and directly through the employee contact details. The system allows for seamless management of vacation entitlement changes, whether due to contract adjustments, part-time arrangements, or any other reasons that may affect the employee's vacation allowance. This feature simplifies the process for HR departments and ensures that vacation entitlements are accurately maintained and reflected in the system.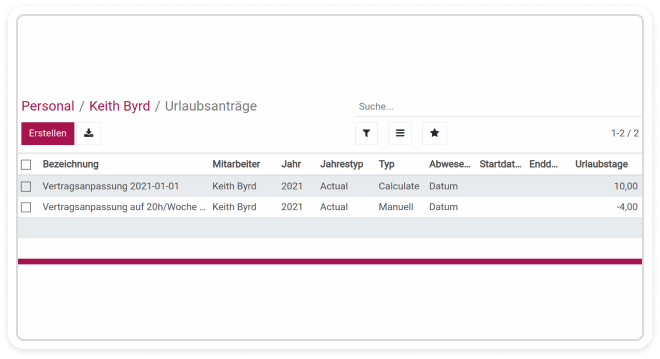 Continuous Calculation

With the Post Principle implemented, ITISeasy.business logs and records every vacation entitlement change in the vacation journal. This ensures that each value is traceable and transparent, providing a clear history of all movements related to vacation entitlements. The system's continuous calculation and documentation feature allow for easy tracking and auditing, providing a reliable record of how vacation entitlements have been adjusted over time. This level of transparency helps in maintaining accurate records and facilitates efficient management of employee vacation entitlements.


Previous

Next
You are Interested in ITISeasy.business?

Our in-house Odoo consulting team is looking forward to supporting you.